November 09, 2023
The latest Altra releases are in store now!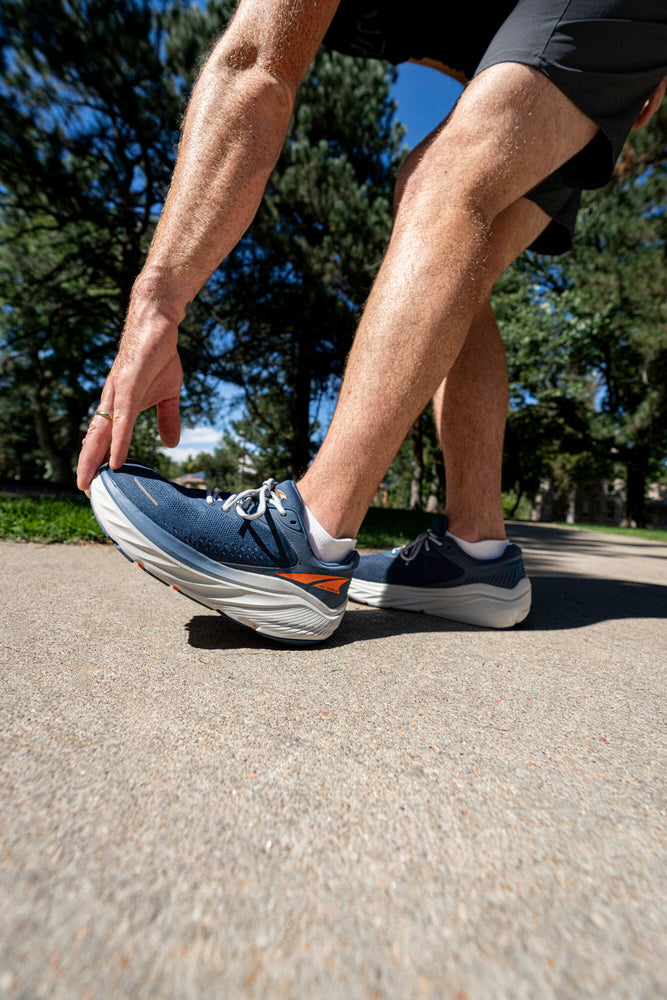 The latest Altra releases are in store now.
Recently we've taken delivery of the AltraFWD Experience, along with the very newly launched Altra Via Olympus 2 and Altra Provision 8, which is exclusive to businesses with a physical store (thanks Altra!).
The AltraFWD Experience is a very different shoe for Altra for reasons we'll go into next, but the Via Olympus 2 is a welcome revamp of an already popular shoe from their range.
So let's start with the AltraFWD Experience, a huge step into unknown territory for Altra. Altra's main selling point since launch has been two-fold, but with the overarching reason of giving you a more natural gait, or, way or running.
Let your toes splay / spread like your foot does naturally when you're not wearing a shoe. Why cram your toes into a narrow toe box and take away the functionality of the big toe, a toe that takes more than 12 times the weight of the other toes on the human foot, and helps massively with balance.
 
Zero Drop - Most running shoes will lift your heel slightly to give that forward motion, the difference in height of the shoe between your heel and your toes is known as the heel-to-toe drop. Again, Altra's pitch has always been keep it natural. You don't walk around with your heel raised when you're bare foot, so why do it when running?
With the  AltraFWD Experience, Altra have changed this, or some of it at least! They've kept the wider toe box, although it's not as wide as the hardcore Altra fans would like I suspect, it's still wider than other brands. The role of keeping that big toe straight, on the "Meyers Line" gives you so much more stability along with the weight loading benefits mentioned previously. But the big change with this shoe, is the drop. Altra for the first time in their history, have released a shoe with a heel-to-toe drop. It maybe only 4mm, but what it does, is open this shoe up to a wider audience.
It's a way for people that are new to brand, to try the wider toe box, without having to go "Zero drop".
Runners can steer clear of zero drop shoes through fear that it puts too much strain on the lower leg, Achillies, calves, but on the opposite end of the stick, it is great for reducing load on muscles and tendons higher up the leg. As an example, I've struggled with a glute "injury" for months. I haven't actually injured it, I think it's just a change in my gait, since opening Sole Mate. Sat at the desk all day vs Being on my feet all day, has seen my heel striking completely go away, as my hip flexors have loosened and become less tight. Going from normally being bare foot working from home, to wearing a shoe with a 10mm drop constantly, has taken its toll on my body.
Last week I slid on the Via Olympus 2, and the pain went away, like someone flicking a switch. It was crazy, it took that load from the glute like nothing else has.
Anyway…back to the AltraFWD Experience, so it's got a drop and a wide toe box and people are genuinely loving it. It's scored really well for us on gait analysis in store, the heel to toe transition is smooth, it's light, and the extra cushioning and plushness just moves it up from the Torin (for those that have worn that). As a new shoe watch out for growth in that area of the range!
The ViA Olympus 2 is a different beast altogether. Max stack height, max cushioning and still with a zero drop. If you liked the Via Olympus initial release, you will love this. Ultimate comfort from the additional cushioning and the wider toe box, creates a shoe that is not only great for runners who want that protection and comfort, but also for people like NHS workers that spend all day on their feet, especially in the triple black colour way that lends itself well to being discreet.
Last but not least, the Provision 8. A shoe, as stated earlier, that is only available to Brick and Mortar stores like us. A more supportive shoe, sitting somewhere between the Torin and the very supportive Paradigm, but a bit more plush and comfortable.
The new Provision 8 has the same medial GuideRail™ technology, but only when you need it. The new Provision 8 offers a roomy toe box, secure midfoot, and zero drop, and with all of the latest Altra releases, a much more secure cushioned heel collar is also working wonders for our customers! Just a note to point out we only have the men's shoe for now, the women's ships out Early 2024.
We first spoke to Altra 12 months ago before opening the shop, and they seem to have even come a long way since then! We're excited after being shown the AW24 range today for what's coming next too!!