July 14, 2023
The joys of opening an independent running shop!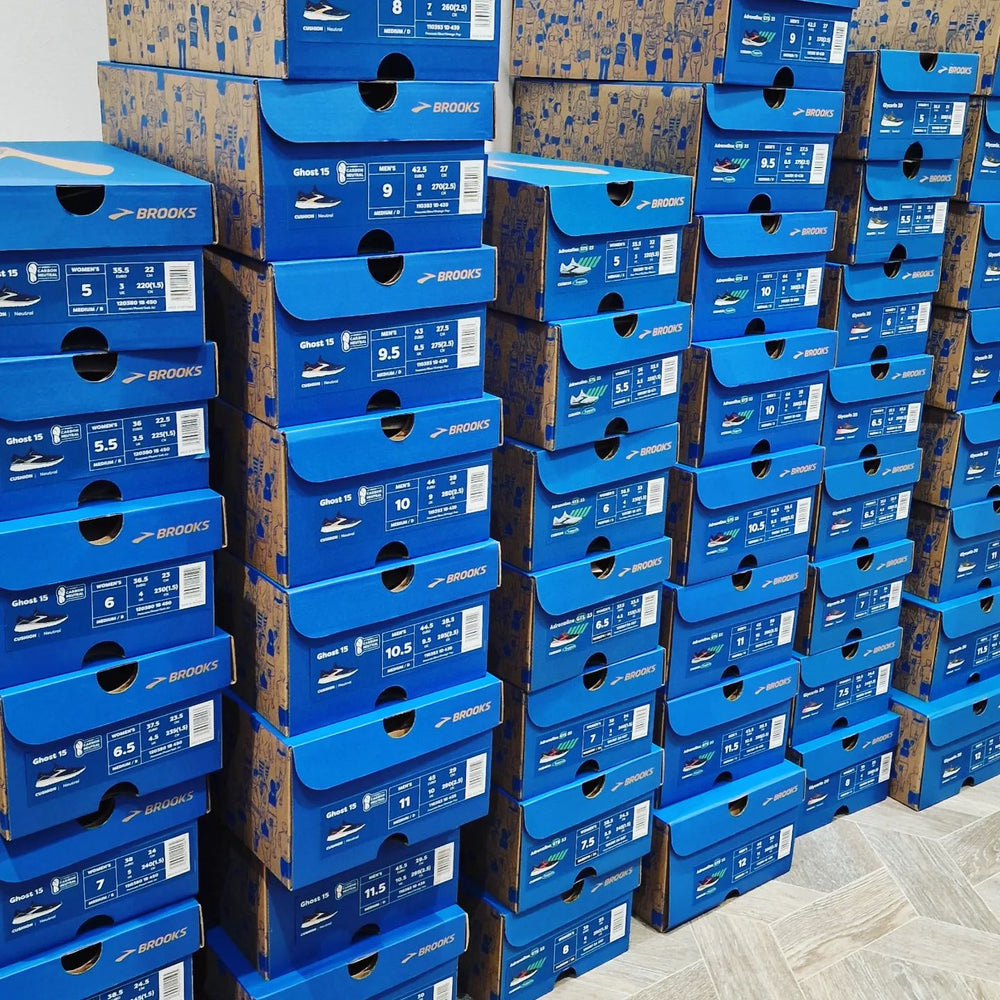 We put a post on LinkedIn this week, which started as a post about us getting in Brooks as a brand, but ended up as something else. We've put it here as we'd love people to understand the fun we've had!!
...........
It's been a big week for us this week for a few reasons!

1) Brooks landed in store and are now available in store and online. The Ghost, Adrenalin and Glycerin are on the wall and ready for customers! It's been a long old process getting Brooks on board for one reason or another, but we are thrilled to have them in store as we aim to bring the best brands and shoes to our store.

As a new business it's been a mission to get all the brands on board! We couldn't get stock if we launched as an online only business, the brands don't want another one competing on price. They want a physical presence where people can touch and feel the products, try them on, get a service that you simply cannot get online, human interaction mandatory!

So then we found an industrial unit, but some brands still said no, we needed a shop front to showcase products, but we're glad we had these hurdles to get over, as we quickly found out that the industry (brands and consumers) want to interact.

But now we've ended up in the perfect space, where we hit another hurdle where HMRC take 40 business days to give you a VAT number!
Guess who opened in less then 40 days and guess what, some brands wouldn't ship without it. So we launched with a couple of brands and have continued to build our range, month on month.

We get comments every single day about how the shop looks, the amazing range of stock we have, the social run club we provide, and events we will put on, which leads us nicely to number 2

2) Our first event - A Wonderful Women pop up event at the shop on Tuesday this week. A night designed to empower women, to find out why they run, or why they don't! To find out the hurdles they need to get over to be able to run. What puts them off, if anything. Joined by 4 amazing ladies talking about their experience in the industry.
If you've not heard of Wonderful women yet, check them out here: https://www.facebook.com/profile.php?id=100088674048656

3) OUR FIRST ONLINE SHOE SALES!! - this week saw us take our first online sale of shoes. We've sold other gear but the trainers sale was important for us as it meant, that people that we don't know, that aren't local to the store, firstly find us on Google, but secondly trust the brand and the messaging we try and put across through our platforms, enough to spend a large value with us. We did a little dance, I'll be honest.
Then just like buses, we sold a 2nd pair!!

We're now getting brands reaching out to us which makes a nice change, it's a world away from where we were around Christmas time, trying to find the right person or contact to ask just to get pricing to fit into a business plan and financial forecast.
Lots of fun had, and lots more to come. Please support us a local independent specialist running shop. There's not many of us about anymore, but we're determined to buck the trend!